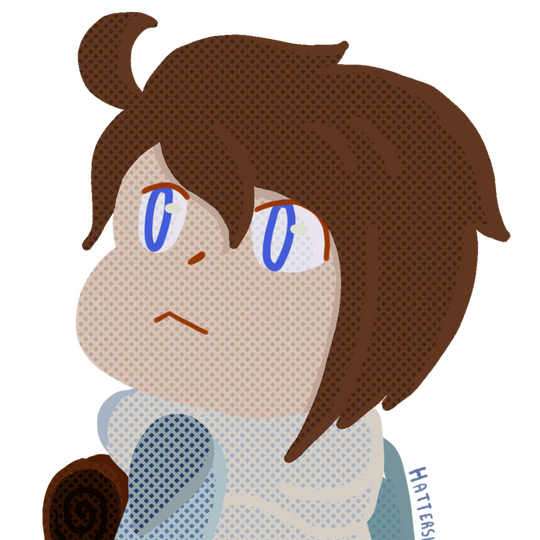 Sam Hattersley
Character Art and Games
---
Gunfire Hearts
Gunfire Hearts is a bullet hell dating simulator taking you through a series of silly first dates, shooting your dates and dialogue.
Building the game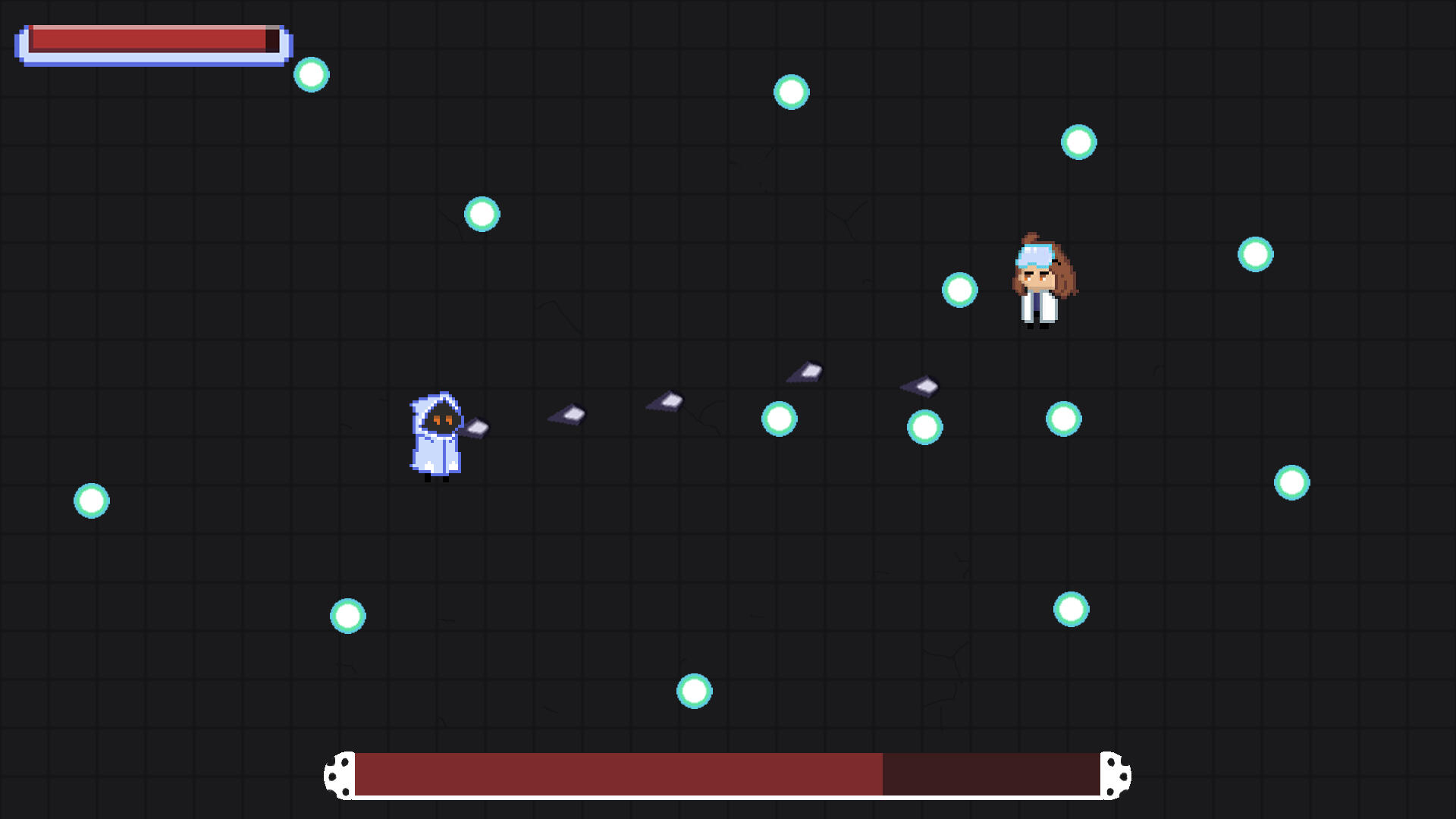 I came up with the idea for a bullet hell romance game in high school, but finally decided to tackle it for my senior thesis project. It was a combination of two things I love: silly dating sims and genre mashes.Originally, I expected it to be far more narrative focused, and player choices would have an impact on the dates. It was also less metaphorical and the player would be physically shooting. But that didn't work well for every character, and after deciding to scrap enemies and opting for all boss fights, I went with the metaphor route.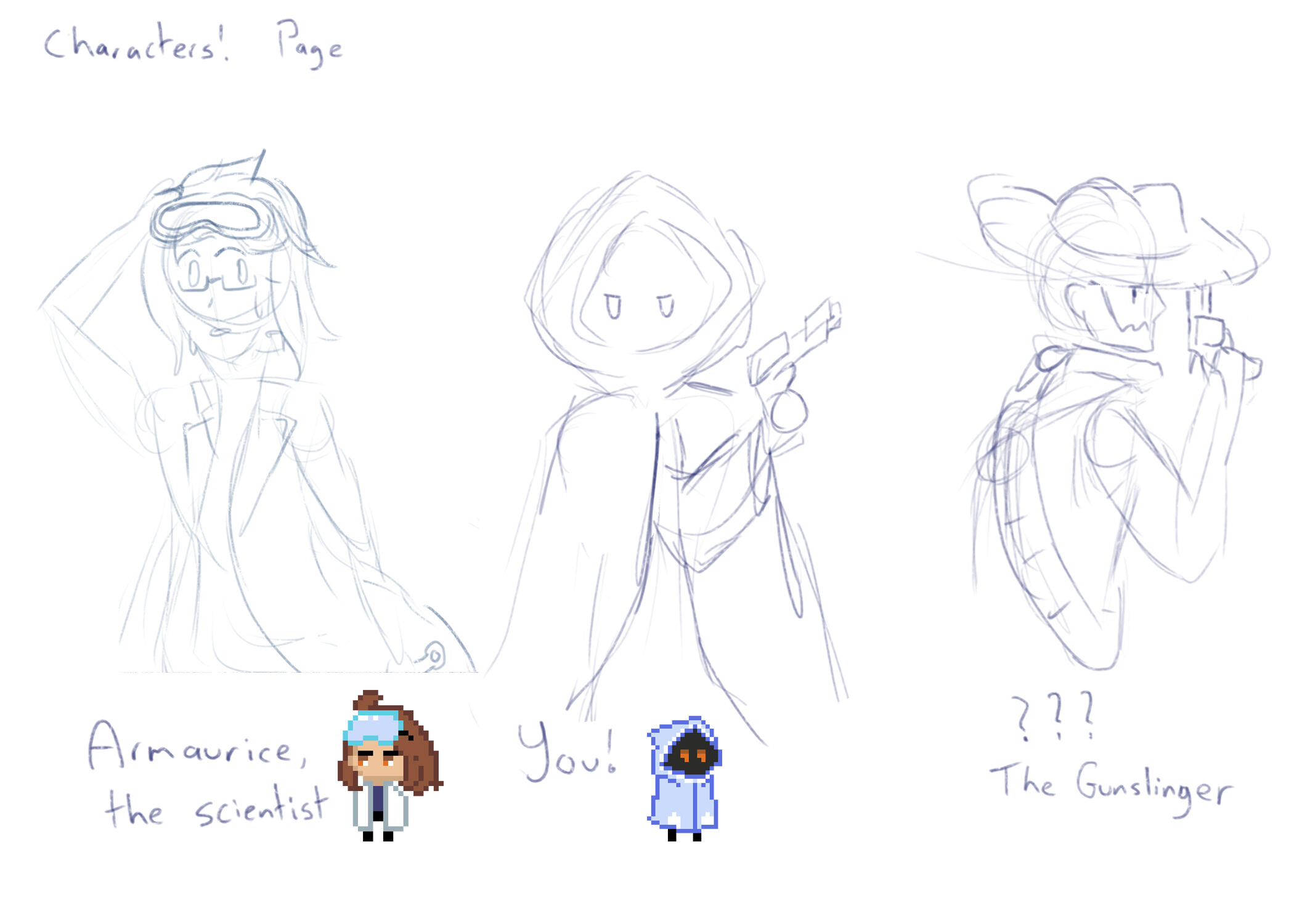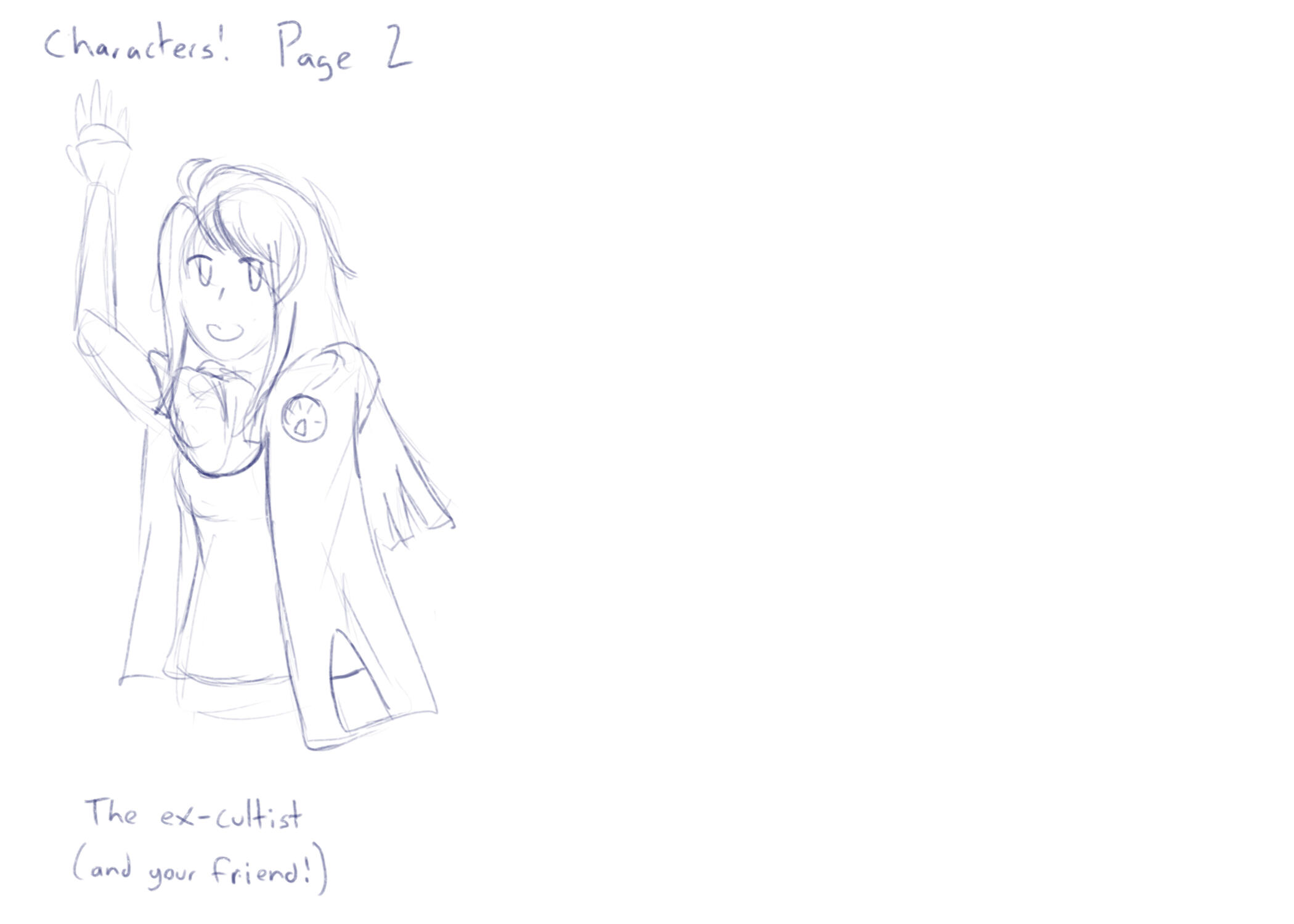 Early character sketches! This was before Bartholomew the Bartender made an appearance. The Gunslinger didn't have a helmet, and the Acolyte was called the ex-cultist. She was called the Cultist afterwards for a while since your player and her have an origin within the Sect of the Silver Bullet, although she was renamed when I decided the label of cultist was too heavy a connotation for the tone of the game. She's still called the Cultist in all of her code, though.
The first ever prototype attempting to figure out how to make a bullet hell even happen. I wanted to have her shoot out in a cross pattern, but didn't know how to tackle it at the time. So I settled for 4 bullets per burst, each picking a direction when created.Then, things get fun: I was talking to my advisors, and they recommend putting my dialogue choices IN the bullet hell segments themselves. I immediately fell in love with this idea. I also finally figured out how to make bullets burst in a pattern! I start with a huge amount of tiny, fast bullets, but I slow them and reduce them over the course of development repeatedly.
I played around with the mechanics of shooting options, taking away the players aim, and trying to make that interesting. A bit more feedback came to mind with the idea of trying to form sentences within the dates. I then built the sentence mechanic, where you had to shoot a series of words in order to access the next session of dialogue options!
From there, it was building the rest of the dates. Batholomew came next: and his programming base would be replicated a lot in the other two characters because I figured out how to make him random, but also vary his moveset depending on the phases of the date. With him, I also decided to give each date 3 phases.After his date was done, I spent a lot of time tuning the overall experience when discussions revealed that I wasn't incorporating enough of the silly, flirtatious tone I wanted for the game. I then built the Scientist's date and proceeded to play a lot more into that. It works for her character that she would alter the way dates behave, and she was refreshing to work on.Finally came Gunter, the Gunslinger. From the start I was wondering how to make a bullet hell out of a character who I imagine shoots little bullets (he would be the best shot out of the cast). Bouncing became the logical option. I also wanted to make his bullets feel more dangerous since there were less of them, so he's the only member of the cast who's regular bullets are not spherical and are animated.
The character portraits were surprisingly one of the last pieces I finished for my final presentation. I spent a lot of time during the year trying to improve my character art, and approaching pixel art at a much higher resolution proved to be a challenge and I had to rethink a lot of my process. It was too small to sketch or block in colors as if I was painting, and in the end I found that going off of a base silhouette worked well to get all my shapes right at the low resolution.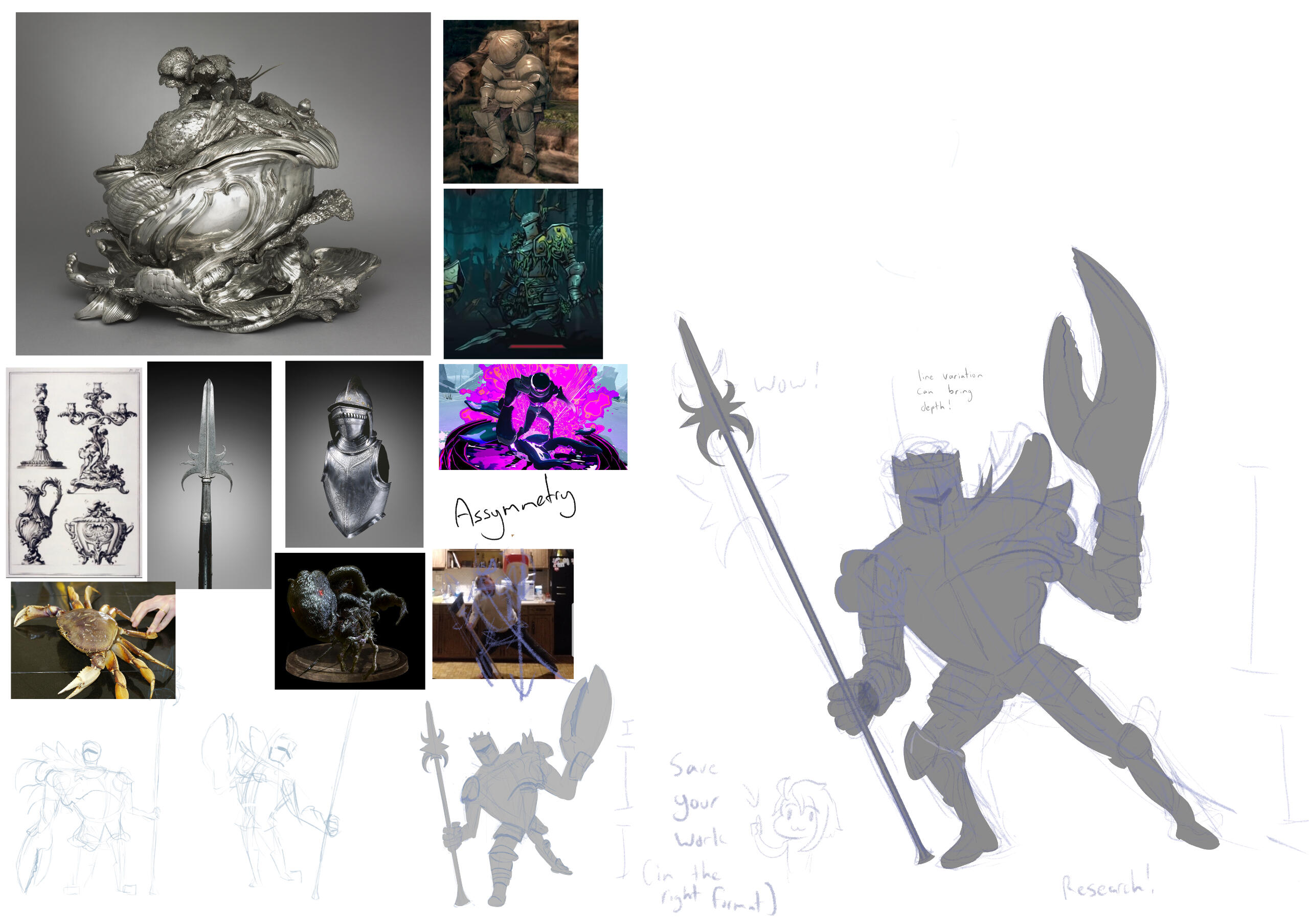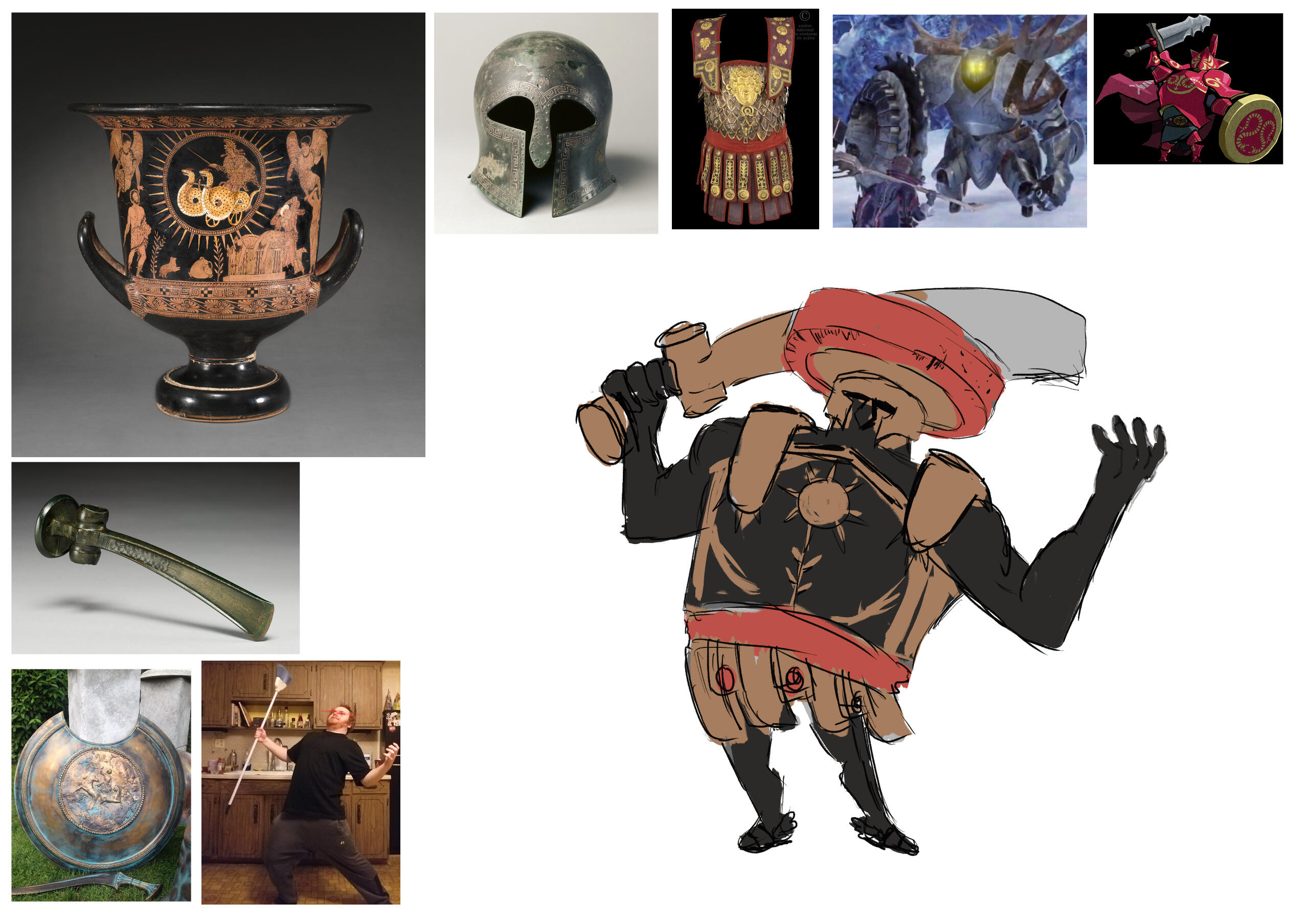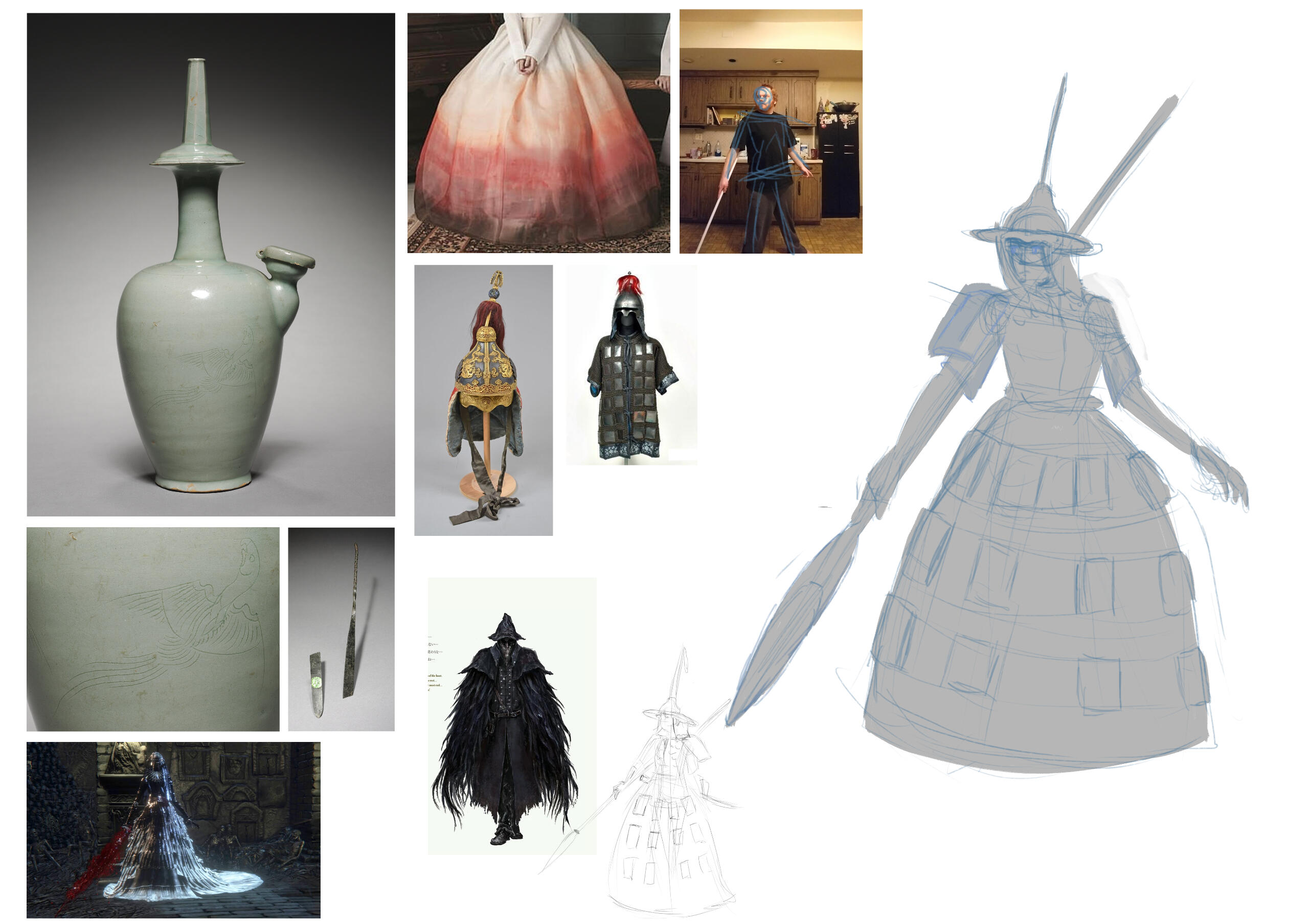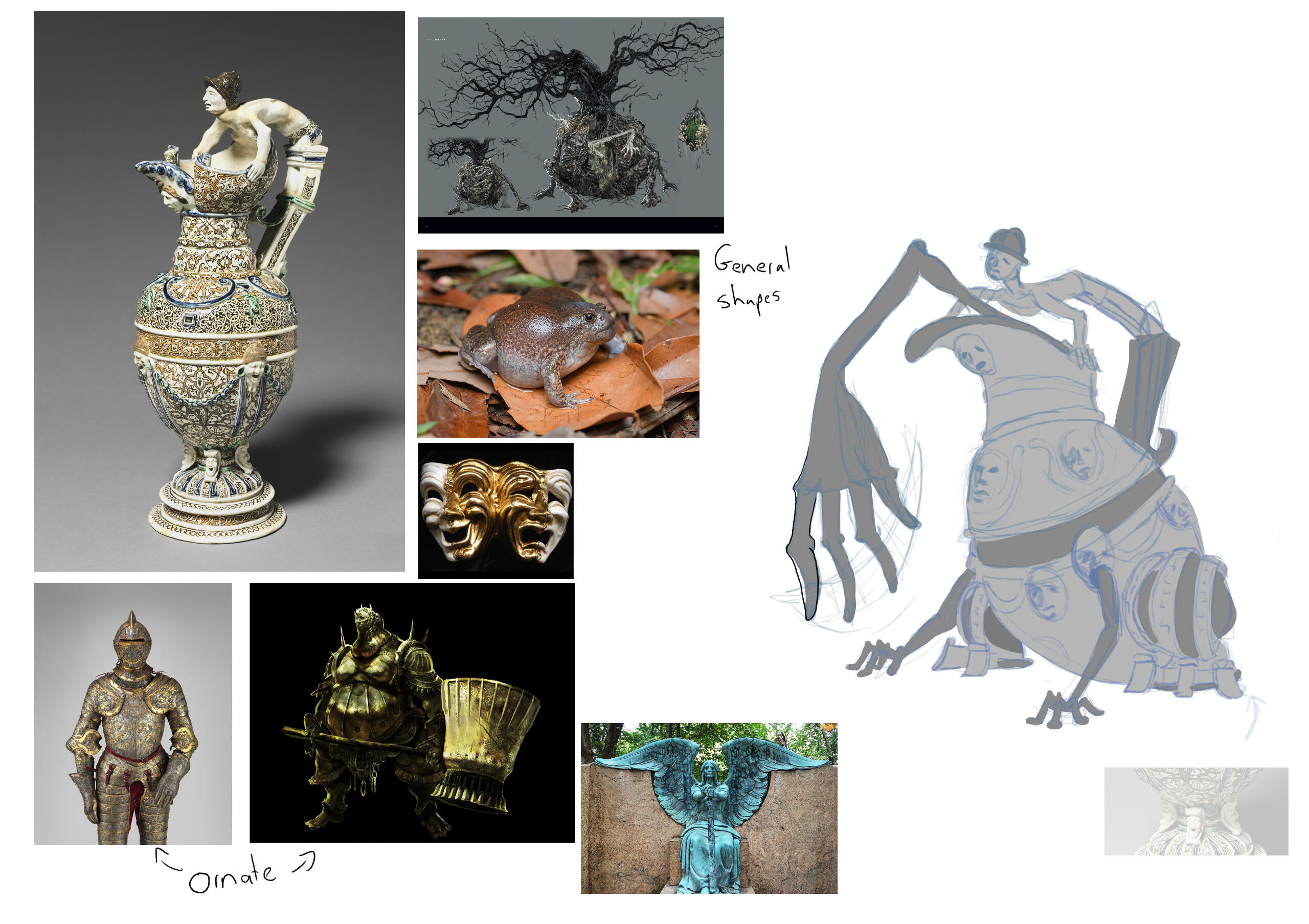 The Grail Guard was a project where I decided to create a cast of souls-like bosses based off of vessels/pottery.I went through more than a few trials at the pose for the Deluge Paladin, inspired by the Silver Tureen. His armor is based of off rococo styling. I really wanted to play with his asymmetrical proportions and ornate armor.With the Calyx-Krater, I always imagine it looking like a person when flipped upside down. I like that a lot, so the The Hearthen Sentinel keeps similar proportions. Everything for him was easily tied into ancient Greek armor, but I thought a big circular plume atop his head would give him status and the shape I wanted.The Rekindled Duelist is the most human of the Guard, and for a while she didn't have a mask. But after working on everyone else she felt out of place to me without it, and I wanted to bring out the imagery of the phoenix on the ewer. Her armor is also heavily inspired by traditional Korean armor.Finally, we meet the Souljar Amalgam. This was the one I wanted to push the furthest, since everything about it was much more out of my comfort zone. I think it's my personal favorite of the Grail Guard, I loved how bizarre the original ewer was and I just had to try and make a character as weird!
Greg and the Great Frog King
A dummy picture book, Greg and the Great Frog King follows a curious frog, a level-headed duck, and a fiery goose as they accidentally summon a banished king!